Our Products
RecoWell
A referral platform for businesses that want to grow. Recommended customers close faster, buy more, and give better reviews.
Request A Demo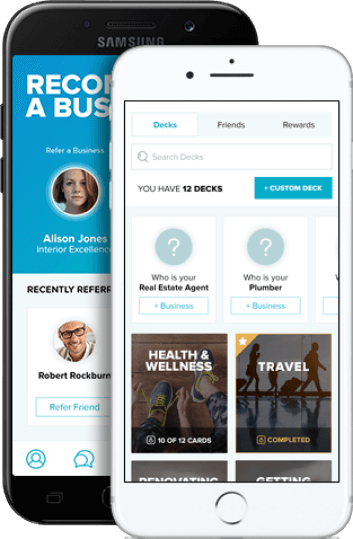 Personal Recommendations from people you trust.
Recowell enables you to find the best advice on life's tough decisions from people you trust, save your own relevant experiences, share promotions and earn rewards for referring your favovrite businesses to your friends, family and colleagues.

Discover
Discover trusted businesses from friends and family. Take the pain away from making tough decisions. No need to rely on random reviews from strangers.
Refer & Earn
Send referrals directly from your phone when you are on the go. Businesses love "word of mouth" referrals and want to reward you for helping them grow.

Chat
Send one-on-one and group messages to your friends and the businesses that you refer. A quick and easy way to get the information that you need.

Influence
Curate your favorite business categories. Help your friends find great people to work with and help your trusted business contacts connect with new customers.
Business Referrals made easy.
All your customer referral communications in one place, allowing you to enroll, message, track and reward cutomers for referring your businesses.

Enroll
Claim your business, create your program and manage it directly from your phone. Easily invite your advocates through, SMS, email or website plugins.

Track
One stop to enroll, chat, manage and reward your referral program on the go. Get notified when you are referred, thank the referrer and get to know the person they referred through our in-app direct messaging - in real time.

Chat
Build relationships with potential customers and respond to referrals right away, right where they are, through real-time mobile messaging.

Reward
Incentivize referrals by customizing your referral program and automating the reward process using cash or custom rewards. (Hint: two way rewards work the best)